Welcome to Staff Picks, a gear-focused column where members of the TGR Staff review this year's top products—the ones they've been lusting after all fall. From backpacks to goggles to outerwear and more, our staff rounded up its favorites and put each product to the test. This week we are showcasing pants and jackets—see which ones our staff deems supreme.
JACKETS
Justin Fann, Editor of Higher: Oakley Fairhaven Jacket
The Oakley Fairhaven packs everything you could need in a jacket: comfort, insulation, breathability and an outer layer that keeps you dry in any condition. The fit is loose allowing for any combination of layering and is long enough that you'll never find yourself exposed to the elements. The Nylon/GORE-TEX fabric offers a great deal of water repellence and combined with the down 650 insulation, I stayed plenty warm with only a long sleeve shirt in 30 degree temps. The small details on this jacket go a long way. The wrist gators keep snow from creeping up your sleeves, the lens wipe in your chest pocket keeps you seeing clear when your goggles start to fog, and the sleeve-mounted lens wiper is key for removing any ice from your lenses. Long story short this jacket has everything I look for in an all-temp layer; warmth, breathability, high water resistance, tight fitting powder skirt, and plenty of pocket space. One thing I wish it had is a more easily accessible front pocket for your hands, but the overall performance of this jacket makes up for this minor complaint.
Alicia Jeter, Accounting: TREW Stella Jacket
As winter season hits, its time to put my Stella Jacket by TREW to the test! Last weekend I went up the tram with some friends and we had some serious negative degree weather. While my friends were complaining how cold it was, I was pretty darn toasty in my TREW jacket. I dig the fact that the hood is the perfect fit over my helmet. The color is awesome and looks great with just about and color pants you feel like wearing with it. The cut of the jacket is long however it is a bit snug on the hips. All in all it is a great jacket for the 2014 ski season!



Greg Epstein, Supervising Producer: Patagonia Untracked Jacket

Being a crusty old production guy, I've seen so many gizmos and wingdings on jackets that I've learned the value of simple and reliable gear. That's why I'm backing Patagonia's Untracked jacket. The 3-layer nylon GORE-TEX fabric knows no moisture or wind it can't beat back, while the brushed lining adds a feeling of warmth that's fairly uncommon for waterproof shells. Patagonia's build is legendary and the construction of the fit feels strong and supported without feeling constricting. And you gotta love the large plastic main and chest zippers.
Katie Metzler, Marketing Coordinator: Arc'teryx Andessa Jacket
I am in love with the Arc'teryx Andessa jacket. It is everything you want when living in a mountain town that sees a shit ton of cold weather. This jacket has GORE-TEX,maximum warmth (truly tested it in the cold spell of negative degree days here in Jackson), and is super lightweight. The jacket has kept me warm without fail on those cold days - the Coreloft insulation layer provides so much warmth, I only need a light base layer underneath when I am out on the slopes. While the Andessa jacket keeps me warm on the hill, is also keeps me looking stylish on the mean streets of Jackson, where you never know when you'll have to defend yourself from an errant moose or a spilt Moscow Mule.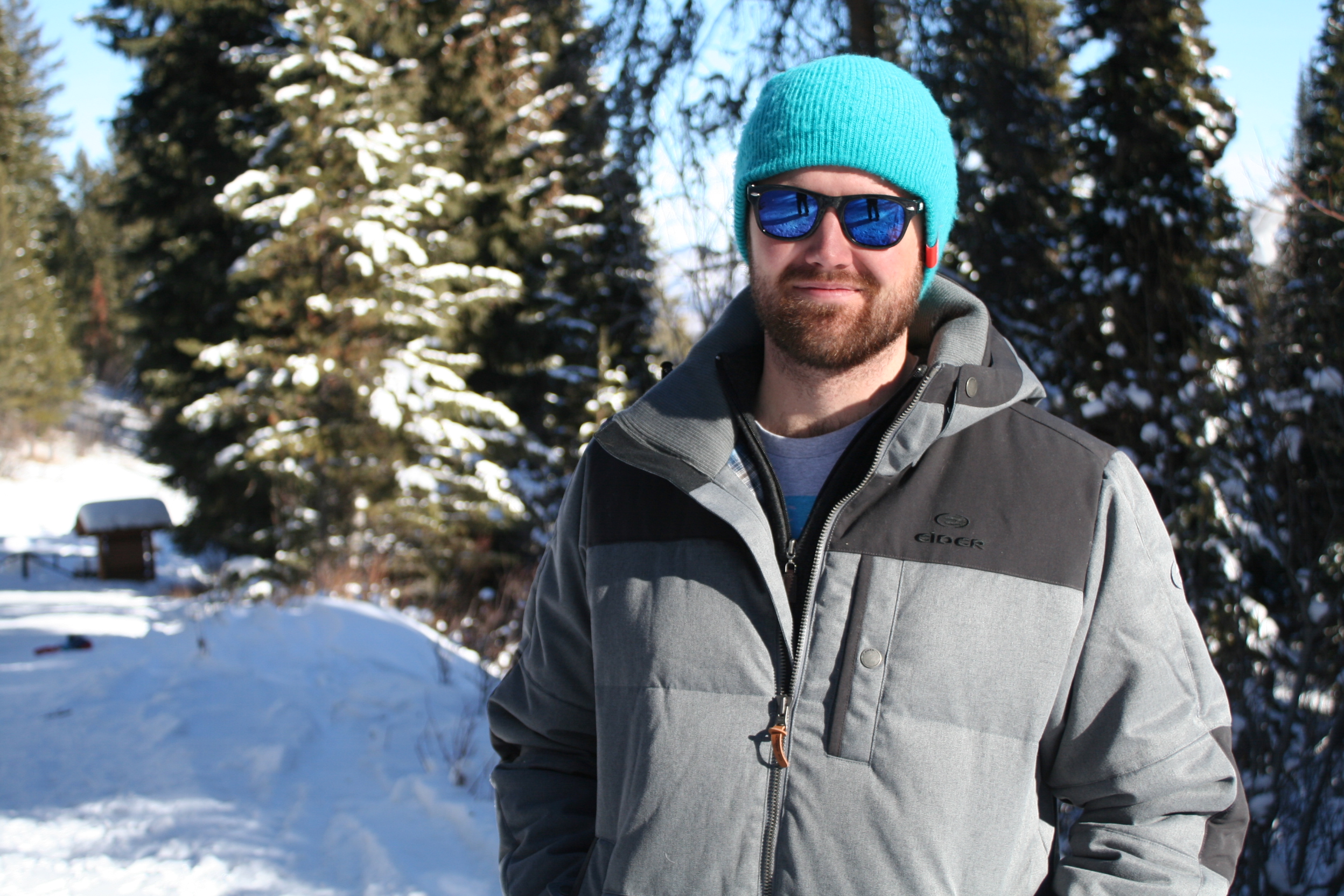 Olaus Linn, Senior Designer: Eider Aravis Jacket
It's hard to successfully blend technical outwear and urban chic, but Eider has pulled it off beautifully with the Aravis Jacket. This coat checks all the important boxes for me: it's an insanely warm and cozy down puffy that's perfect for frigid mornings. It's made with Eider's awesome Defender material, which has a soft cloth feel but is totally waterproof. I tried it out when we got the coat by pouring a glass of water on it and it instantly beaded up and rolled off the arm. Snowflakes are no problem! The one feature that I'm not as psyched about is the snap-off hood - it's quick to take off and put on, but comes unsnapped sometimes when I'm pulling the hood on over my helmet. It has only been a minor annoyance so far, though. Overall, with the combo of super waterproof material and duck down, this jacket has the technical chops to stand up to any conditions.

It's also a fashion statement - the Aravis is part of Eider's Lifestyle collection and is designed to look equally good shredding during the day or out on the town at night. The satin finish of the coat looks and feels great, and there are cool details in the stitching, buttons, and brown leather zipper pulls that make it stand out. The dark grey color works just as well with a sensible pair of slacks as it does with a pair of baggy neon snowboard pants. I'm stoked on the way this coat fits into my lifestyle, keeping me warm and looking good.


Lizzy Bahkus, Digital Advertising Manager: Norrona Lofoten Active Jacket
We've got quite a show for you tonight, folks. In one corner, weighing in at barely over one pound, all the way from Oslo, Norway, it's the Norrøna Lofoten GORE-TEX Active Shell Jacket. In the other corner, looking more fierce than ever, it's the harsh winds and frigid cold of the backcountry. The backcountry has gone undefeated, dominating all other jackets in the industry... until tonight! With its lightweight GORE-TEX Active Shell, this jacket has guaranteed waterproof protection and the thinnest tape that Gore-Tex makes, so you're not feeling constricted as you climb, tour and hike to that perfect powder. The hood is adjustable to fit perfectly over your helmet, but cinches to the perfect size to protect your noggin from snowfall. The pockets are extremely breathable and the front pocket comes with a goggle lens wipe attached so you can wipe your steamy lenses with ease. Since the designers at Norrøna knew you'd have your pack on, they didn't bulk up the jacket with lots of pockets, but instead added only the ones that are absolutely necessary. My favorite quality of this jacket is the asymmetry: the asymmetric cuffs keep your hands free and the asymmetric zip across the front brings a modern look to a functional piece. Not to mention, the color is "tasty red;" this jacket is just all-around sexy!
PANTS
Bre Skaggs, Design Intern: TREW Chariot Bib
Let's be real here…We all have had those times when one wrong turn sends you into a cartwheel, and inevitably the coat comes up and the pants slip down. Snow everywhere. You're cold, you're wet, and no one likes to shovel snow off of a cold back with colder hands. No fun.

I love that the TREW Chariot bibs eliminate all those unfortunate snow-filled pants experiences. Unintentional tomahawks and waist deep powder are no match for these pants. The bib also gives some added warmth to your torso on those extra chilly days.

Along with the bib's awesome ability to keep the snow where it is intended to be, I am a huge fan of their level of waterproofing. Being a snowboarder, we spend some time kneeling or sitting in the snow, and these guys keep you warm and dry all day. They fit great and are a pant that I expect to last many seasons!
Blake Campbell, Lead Film Editor of Way of Life: Armada Sleeper STR Pant
I've owned a few different pieces of Armada's outwear over the years and they never disappoint. So naturally, when it came time to pick out this season's threads, I went back to them. The Sleeper STR pant is everything you want from your everyday shred leggins. They are desirably loose fitting and the fabric has a little bit of stretch in it, so you get that extra bit of mobility for hiking or for getting fully tweaked - in the air or the bar. Good style, good function - you can't go wrong with the Sleeper. Hardest thing for me was deciding which color...
Ryan Dunfee, Associate Editor: Saga Fatigue 2L Pant
It's taken forever for skinny pants to gain a foothold in the ski community, but despite its reputation as the pioneer of the XXXL skittle thug park look, Saga has actually been one of the very few companies to put out a fitted pant. For years I rued having to roll up my baggy ski pants and look like a clown off the hill, but the Fatigues have a comfortable street pant fit in which you can transition comfortably into a grocery store or a bar. Still, they allow for plenty of free movement, and fleece linings on the butt, thighs, and knees keep you warm all day long. The 2L shell keeps everything at bay that isn't rain, and at $180 retail, they're actually affordable unlike most of the stuff us editor folk like to pick out. I'm on my third pair, and have yet to have even a mild issue beyond a two-inch square of duct tape to sew up an edge slice.
Make sure to check out our picks for goggles and sunglasses. Skis and snowboards up next!