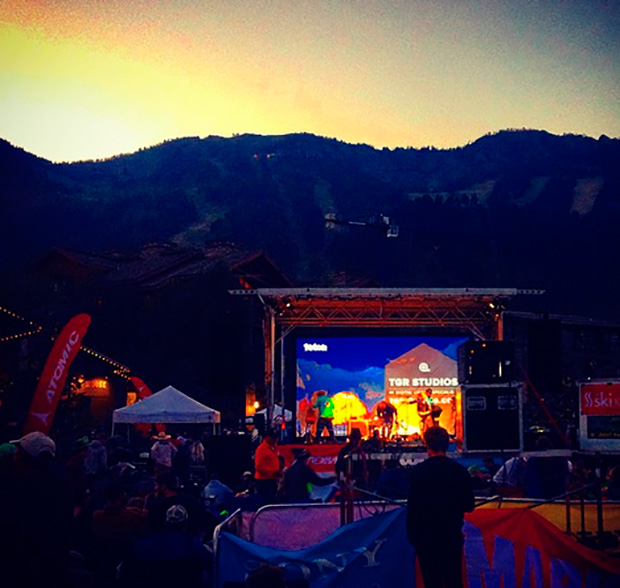 The apenglow of a setting sun at Jackson Hole Mountain Resort as the Almost Ablaze World Premiere gets underway. Photo Credit: @thejobfather
This past saturday we at TGR premiered our new ski flick Almost Ablaze to a sold out crowd in Jackson Hole. What was special about this year's show was it was the first time that we have held our ski movie premiere outside. Thankfully the weather cooperated and a sunset over the Jackson Hole Mountain Resort set the stage for an epic evening.
Johnny Collinson, Colter Hinchliffe, and Ian McIntosh relax at the top of Blacks Canyon in WIlson, Wyoming during a premiere week bike ride. Photo Credit: @sageca
Premiere week started slightly early for the Almost Ablaze athletes. On Wednesday ,TGR held its annual Athlete Summit to discuss how this year's film went in all respects and get a jump start on planning for next season. It wasn't all work, however, as meetings and planning were frequently interrupted by slackline sessions, riding TGR's new mini-ramp, and mountain bike laps up on Teton Pass, with a fresh set of athletes wheelying into the parking lot every few hours.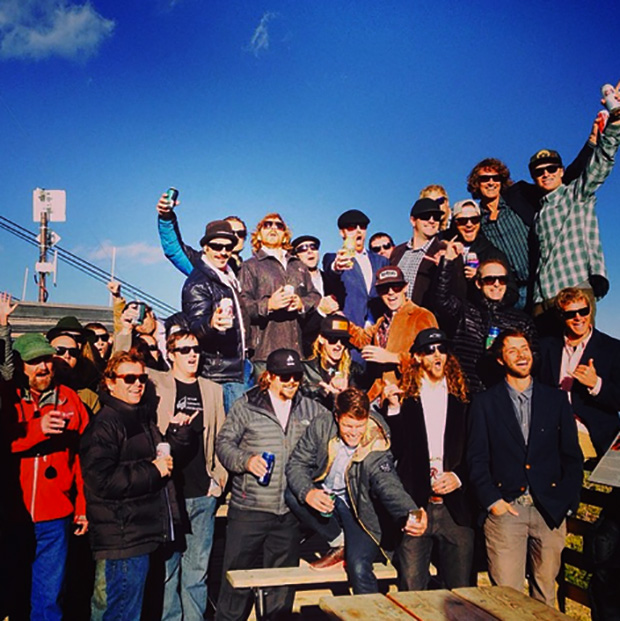 The boys of TGR at the top of the Jackson Hole Mountain Resort Tram.
On Thursday night, the annual TGR Family Dinner was held, which included a ride up the famous tram at Jackson Hole Mountain Resort for cocktails as the sun set. The evening was enjoyed by sponsors, athletes, and most TGR employees alike. Libations were consumed, toasts were made, and fun was had by all.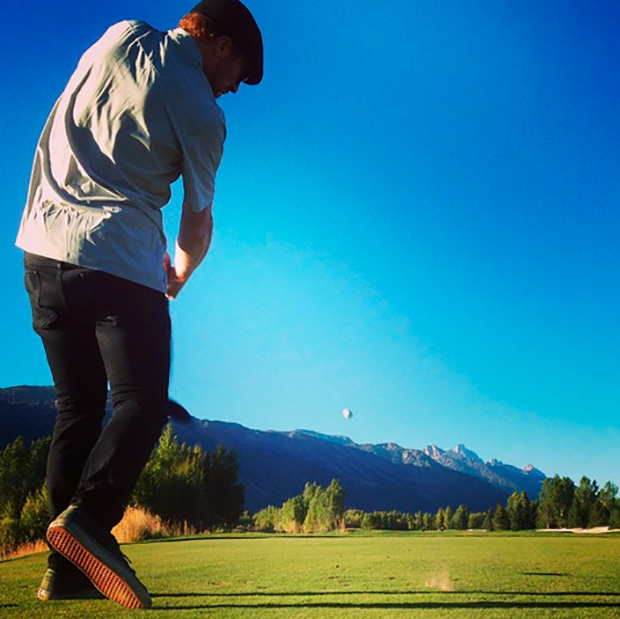 Ian McIntosh sends a drive over the Grand Teton at the Teton Pines golf course. Photo Credit: @jonnyinutah
If you have not caught along, Premiere Week is filled with many annual traditions. None is more sacred and highly anticipated than the annual TGR Golf Tournament. Friday afternoon, everyone descended on the Teton Pines golf course for a chance to win the illusive TGR trophy. The full spectrum on golf skills was on display. From TGR co-founder Todd Jones' eclectic plaid golf pants to plenty of muffed drives and shanked balls. In the end, TGR's other co-founder, Steve Jones, took home the trophy.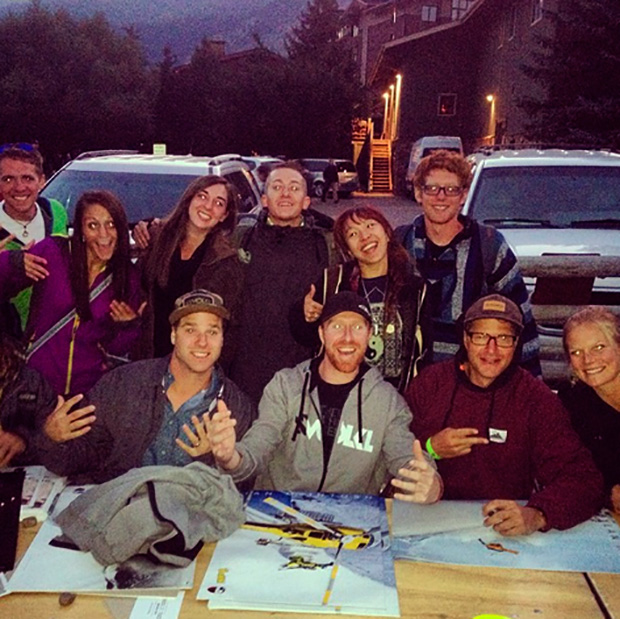 Athletes Dash Longe, Ian McIntosh, Dylan Hood, and Angel Collinson pose with fans. Photo credit: @hoodylan
Saturday arrived, and the day of the premiere was finally here! To start off the evening, all of the athletes participated in a meet and greet with the fans. Stoked movie goers and athletes alike were pumped to be able to meet each other, pose for pictures, and sign autographs.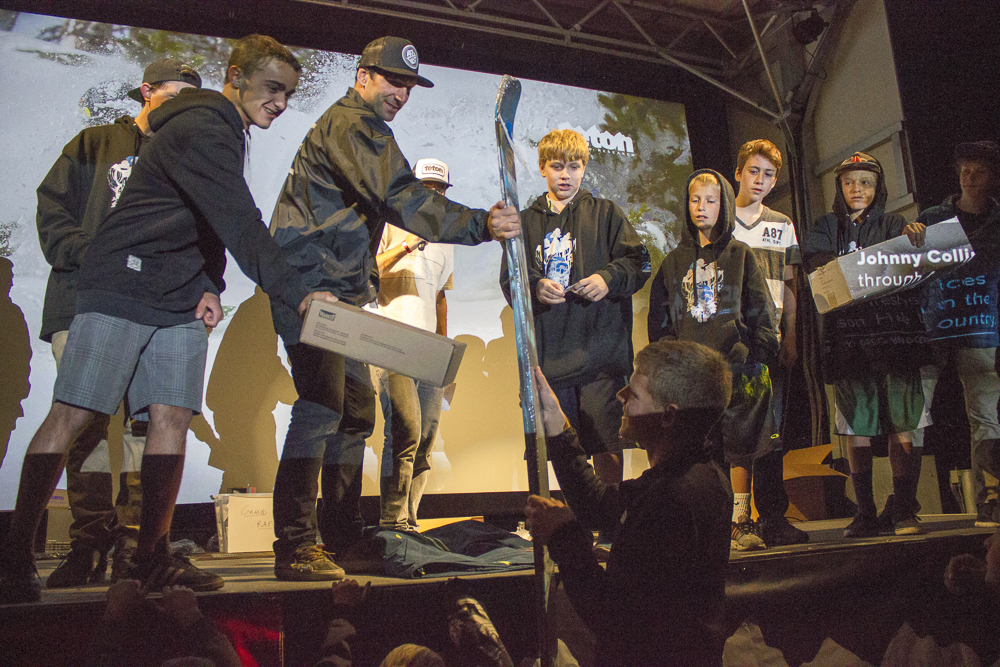 Daniel Tisi and Jackson Hole Ski & Snowboard Club Program Director Jeff Moran hand out Marker bindings and Volkl skis gear to a stoked fan before the Almost Ablaze World Premiere gets underway. Photo Credit: Rebecca Janecek
We gave away plenty of swag and prizes including items from Atomic, Volkl, Marker, and Sony Action Cam. This year will we be handing out over $1,000,000 in giveaways during the fall tour. The Jackson Hole Ski & Snowboard Club was at the premiere selling raffle tickets to support their cause. Here to hand out some bindings from Marker was none other than past TGR Grom Contest Winner Daniel Tisi, along with JHSSC coach Jeff Moran.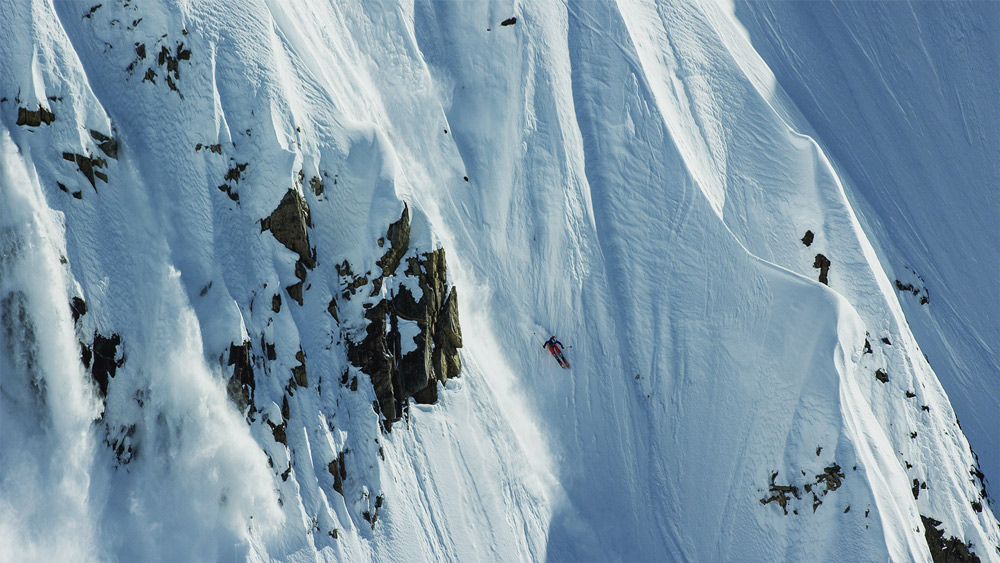 Angel (almost) a-blazin' down the throat of a nasty couloir in Alaska in her opening segment.
The first segment of Almost Ablaze was historic for Teton Gravity Research. It was the first time we had a female open one of our ski films. After an intro that features a live version of Talking Heads' "Burning Down The House" (score!), Angel Collinson completely throws down on the steep faces of Alaska. With a fun care free attitude and some serious skiing to back it up, Angel proves why she is one of the top females in big mountain skiing, and makes a strong case for winning Best Female Performance at this year's Powder Video Awards, if we don't say so ourselves.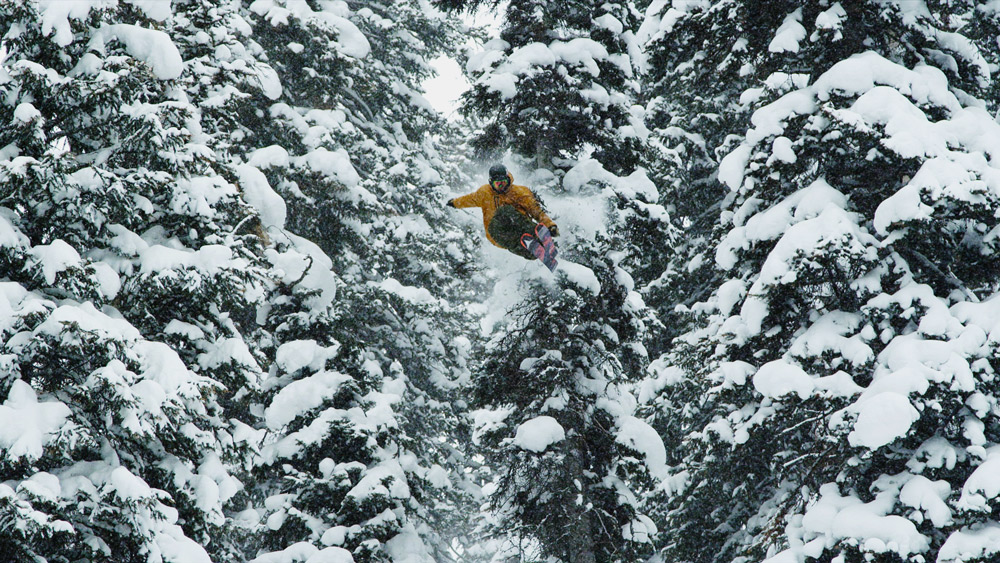 Nick McNutt did some serious pruning to Jackson-area trees during his first visit to the Tetons to film for his badass first segment in a TGR film.
There has been a lot of hype around TGR newcomer Nick McNutt. Hailing from Whistler, British Columbia, McNutt has developed a reputation for a smooth buttery style and landing switch in POW with a level of comfort few have ever matched. His segment set to Hozier's "Take Me To Church" had one of the best crowd reactions of the entire film and we are stoked for the rest of the world to see McNutt's segment during this fall's tour and when DVDs and iTunes downloads become available in the coming weeks.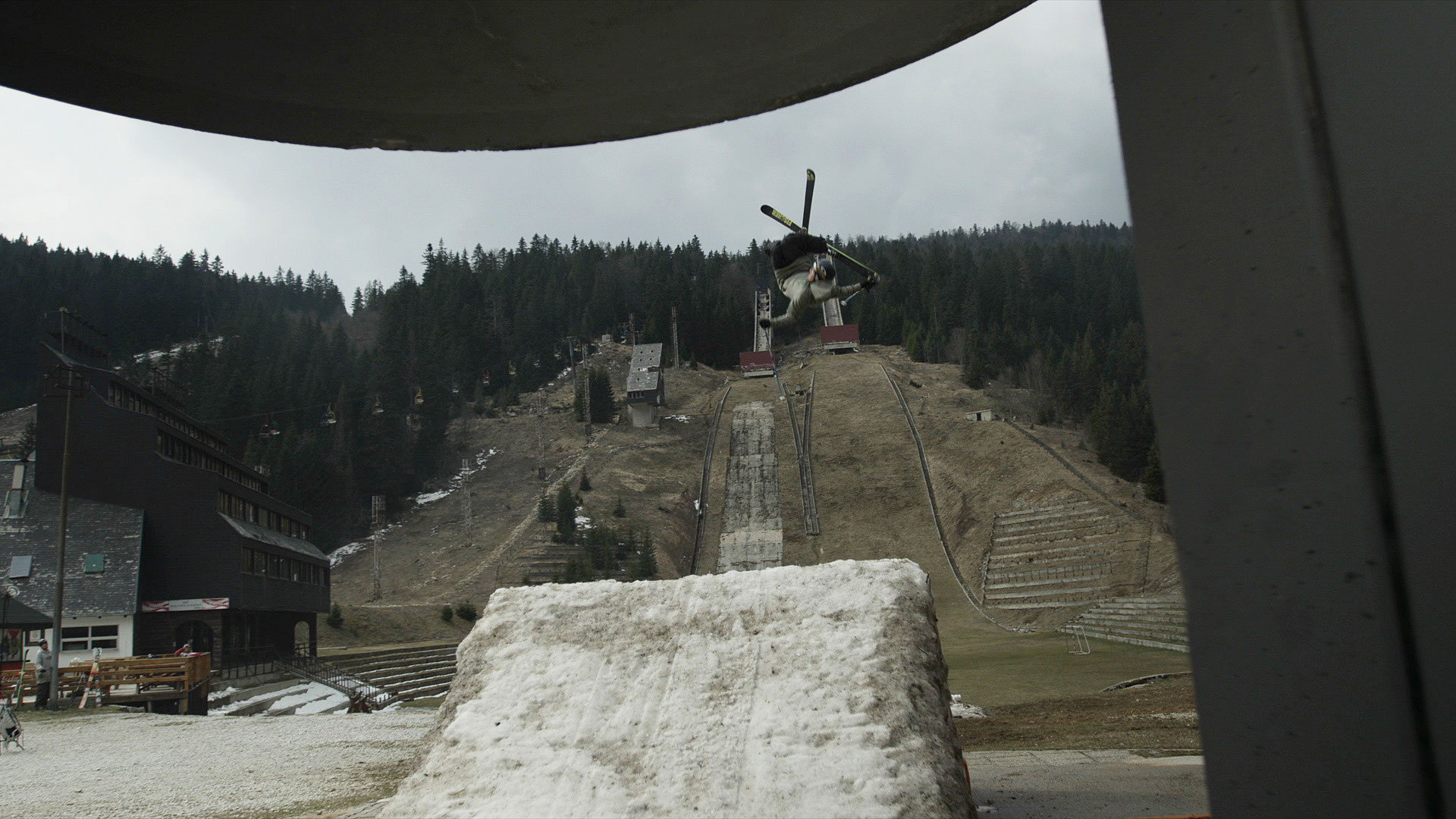 Olympic Ski Slopestyle gold medalist Joss Christensen lays down a gorgeous backflip tail over the disused former medal podium at the 1984 Sarajevo Winter Olympic venue for Almost Ablaze's urban segment.
Joss Christensen became a household name this past winter when he won the first gold medal ever in Olympic Ski Slopestyle in Sochi, Russia–capping off an incredible American podium sweep. In one of the most powerful segments of Almost Ablaze, Joss heads with fellow 4bi9 skiers Chris Laker and Karl Fostvedt to Sarajevo, a city that hosted the Winter Olympics 30 years ago in 1984.
---
Don't take our word for it–read Powder Magazine's review of Almost Ablaze over at Powder.com!
---
Since then, the area has suffered a decade of ethnic conflicts, war, and massive destruction. It is moving watching Joss and company jibbing the old venues with the ghosts of past Olympics, and war, all around them. Not to mention the level of trickery off features like the disused Olympic medal podium with barely a lick of snow under their feet.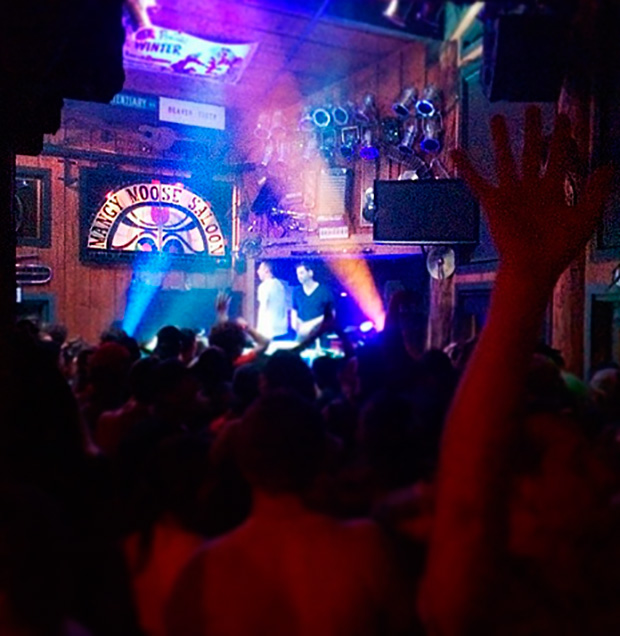 Odesza tears up the after party at the Mangy Moose. Photo Credit: @zahan007
With Almost Ablaze successfully screened, the crowds gathered at the Mangy Moose for the sold out after party. The party stretched into the early morning and featured a wild set from Odesza, which included songs off their new album In Return, which also features heavily in the soundtrack of the film itself.
Premiere Week and the Almost Ablaze World Premiere night could not have gone any better. The athletes were pumped to see crowds reaction to a winter of hard work. The good news for you is the film tour for TGR's Almost Ablaze is just beginning. We will be traveling all over the country and world–covering almost every continent over the course of 200+ tour stops. Athletes will be stopping in to meet the fans all along the tour–some stops will even include live bands–and we are giving out over $1,000,000 in giveaways! We are pumped to see you out for TGR's Almost Ablaze Tour this fall so buy your tickets here.
---
TGR would like to thank its employees, friends, supporters, and athletes for making another great year in the film business possible. We'd also like to take the opportunity to thank Jackson Hole Mountain Resort for hosting Almost Ablaze's unique outdoor World Premiere!
And, of course, none of this would be possible without our amazing partners: Sony, Atomic, Jackson Hole Mountain Resort, Marker/Volkl, GORE-TEX, Black Diamond Equipment, Line Skis, Backcountry.com, Smith Optics, The North Face, Smartwool, Scott, The Skier's Journal, and Trew Gear. Hit 'em up, these guys rock!