By Dylan Silver
The dusty roads of Black Rock City are loaded with bicycles. For one week, Burning Man probably has more bikes per capita than anywhere else in the world. These rides come in strange shapes, colors, décor and sizes. Here's the lowdown on a few of the more common varieties.
The art car El Pulpo Mechanico blasts fire at Black Rock City
Sparkle Bikes
There's a phenomenon at Burning Man known as the "Sparkle Pony." These are scantily clad glitter girls with colorful hair extensions, platform boots and faux fur leg warmers. Their bikes usually follow the same formula. Faux fur covered frame, expensive leather accessories—a lot of accessories—and gearing a mouse could pedal. Most of the time these bikes are parked, while their owners twerk on the dick-driven art car "Robot Heart."
Roller Skates
This is not as impracticable as it sounds. A lot of beautiful women (and a lot of shirtcockers) get down at the Black Rock Roller Disco. And there's the new heart-shaped bowl at Sk8 Camp. Pull some Greg Louganis shit and you might make it to the Slut Olympics. Actually, that's just for, um, people with really deep mouths.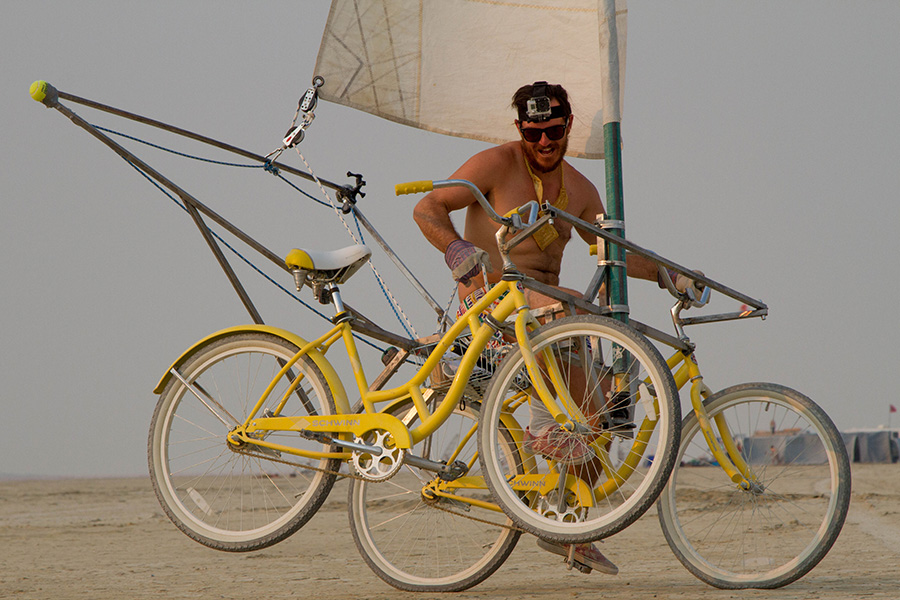 A mutant bike sailing the playa
Freak Bikes
The festival in the desert attracts crafty types. Most imaginations haven't the guile to conceive of the things these people build. The Orgasmatron comes to mind, as does El Pulpo Mechanico. These builders' bikes reflect their brilliance. Swing bikes, tall bikes, backwards bikes, and sailing bikes take effort and talent to build. Make friends with these guys and girls and you may end up riding a pedal-powered dildo cycle to heaven.
Bike Cars
Seemingly one of the smartest ways to get around, the bike car allows burners to ride the playa with their friends, carry a cooler full of beers and not fall over on the blurry trip back from Fractal Planet. But what these able drunk transporters afford in capacity, they lack in convenience. Good luck getting a bike car on the back of your Ford Taurus, not to mention you'll look like an ass riding it alone after your girlfriend gets a Burning Man divorce.
Wheelies for days
Cruisers
The playa is as level as a buzz cut and there isn't a finer two-wheeled machine to pedal the area than the easy-going cruiser. They're cheap, they're easy, and they give off that I've-been-burning-for-years attitude. They don't do wheelies, but they are steady enough for the strap-on jousting contest.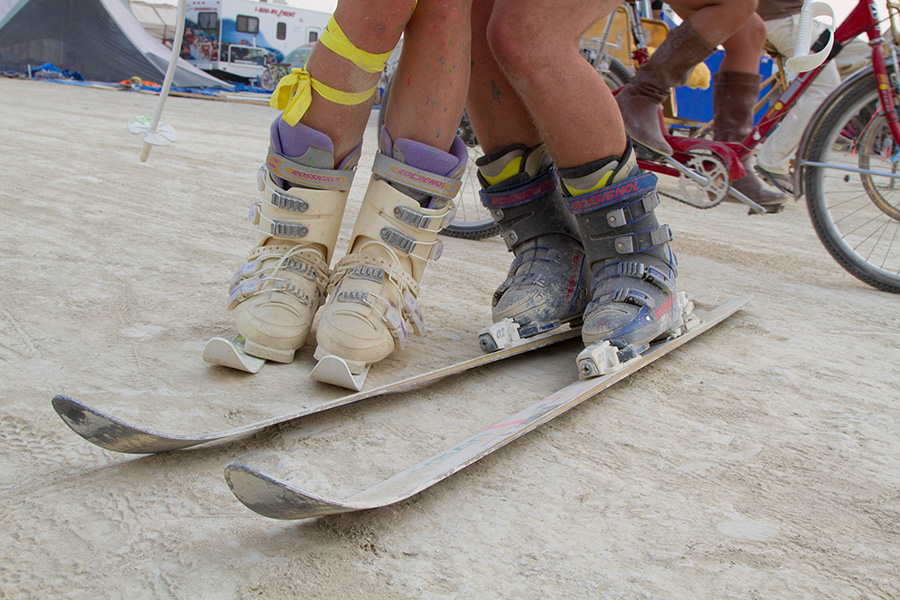 In search of epic blow on the playa
Skis
Bikes are for dicks. Any veteran knows if you're going to rip the shit out of Burning Man, strap on a pair of K2 Cheeseburgers, or better yet, snowlerblades. This footwear will guarantee you a line of drinks longer than 188 centimeters. You might even find yourself neck deep in a line or two.
Spike Bikes
These are the types of bikes that the crew from Death Guild rides around while they're looking for recruits to beat each other up in the Thunder Dome. Usually painted black with spikes and a dead ox skull mounted on the handle bars, spike bikes don't get stolen. Burning Man bike thieves know too well they'll get their ass pounded like a shoplifter in Sudan if they're caught.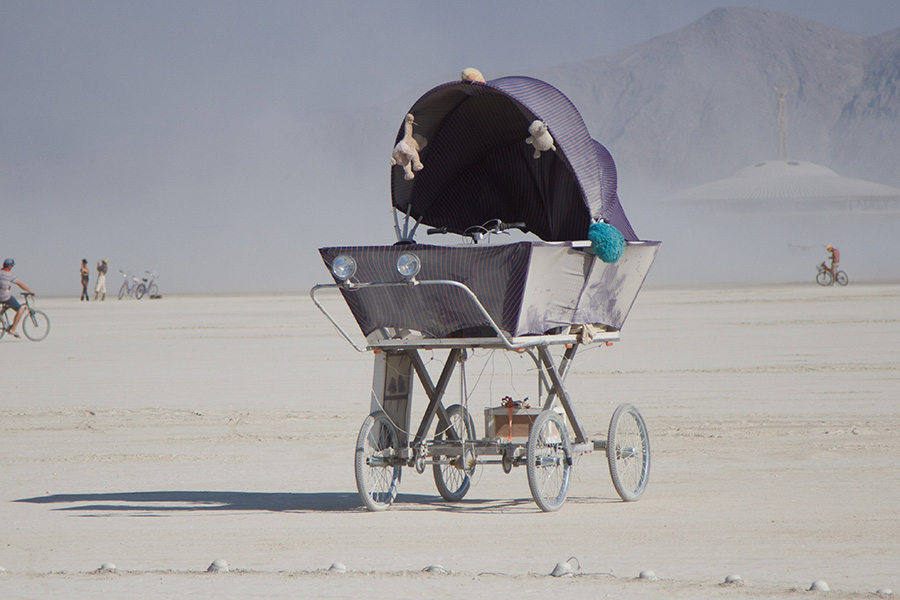 A bike car—this thing is bigger than it looks
Tricky bikes
You can't do wheelies past 10,000 topless women in Critical Mass on a cruiser with purple pom poms. And a bike car is just too wide to hit that rickety jump at 3:00 and F. For those who want to shred the playa, a sturdy trickster with a solid front fork is a must. Just don't try to air the stairs at Sky Bar.
A bike teeter totter
Yellow Bikes
Yellow Bikes are Burning Man's answer to bike sharing. They're often found lying in the dust near a blacked-out first time burner. They come in handy when you wake up in a stranger's tent on the opposite side of the playa and the question of which day it is lingers. Oh yeah, and they're painted green.
Segways
Leaning on the $300,000 RVs, segways come in useful when their proprietors dare to leave the air-conditioned pleasure palaces. Obviously, this crowd is disinclined to get their feet dirty and wouldn't dare pedal for fear of scratching their Chanel playa boots. The downfall here is anyone who has stayed awake for fifty-four hours has no chance of not falling on his or her face.
An art bike without its artist
Art bikes
There are very creative people at the Burn. They'll rip up a child's swimming pool, hot glue it to their frame and, somehow, it will look amazing.
Motorthings
There are all manner of motor-driven contraptions transporting people around the festival. From motorized mountain boards towing lawn chairs to pit bikes that look like zebras, having gas power is a good option. But, goddammit, they go fast and the playa will shave skin like a belt sander.
The sculpture Truth Is Beauty backlit by a nearby burn
Unicycles
These aren't for clowns. They're more for very balanced individuals who refrain from LSD, mushrooms, ketamine and DMT. What's convenient about unicycles is, with only one wheel, you'll rarely have to visit the naked bicycle mechanic, Andrew.
Orgasamator
A one-of-a-kind playa ride, the Orgasamator was newly designed this year. Though the machine doesn't actually go anywhere, it's rumored to be lovely . . . for women. Who needs a bike when you're at the get-off buffet?