Brolin Mawejje is a busy man. When not studying for med school, he's lapping the park in preparation for the Olympics and filming for a documentary on his life, Far From Home. While this pressure would be crippling for many, Mawejje takes it in stride. After all, gearing up for med school and the Olympics are just the latest chapter in a life built around overcoming challenges.
At the age of eleven, Brolin left his home in Uganda and came to Massachusetts. In the midst of the challenges and frustrations of adapting to this new life, snowboarding provided comfort and stability.
In high school, Brolin moved to Jackson, Wyoming with the Hessler family. In addition to being close friends with Brolin, the Hessler's three sons—Phil, Jack, and Jimmy—shared his passion for snowboarding. Throughout the past year, Phil has been documenting Brolin's journey and his efforts to represent Uganda in the 2014 Winter Olympics. For a glimpse behind the scenes of Far From Home, we caught up with Hessler, who is producing the film.
The new teaser for Far From Home showcases Brolin's recent trip back to Uganda—and a glimpse of his shred game.
For those not familiar with Far From Home, what can you tell us about Brolin and the film?
Far From Home: Uganda to the Tetons will retrace the heart throbbing journey of Brolin Mawejje. Born in June 1992 Brolin grew up in an environment dominated by fear and oppression, only to move to America to be outcasted and shunned by his peers and family. But Brolin was able to find sanctuary in the most unlikely of places, snowboarding. The passion he developed for snowboarding resonated into all other areas of his life. This film will go back to the roots of Mawejje's beginning and act as a vehicle for Brolin to tell his story and allow him to close the chapter on his traumatic past and move forward with a promising future.
Unique parallels will be shown in the shooting and editing stages to illustrate cultural differences and similarities, such as his drive for better education and thirst to reach the podium as a competitive snowboarder. We will capture his growth from life in Uganda to Boston and then to Jackson Hole. What separates this film from other documentaries is during production there will be key moments of growth within Brolin and the team. The film will stir up issues of his past that have been suppressed for years. Reliving those moments will create a dramatic catalyst for Brolin as he heals old wounds and grows from the lessons history has taught him.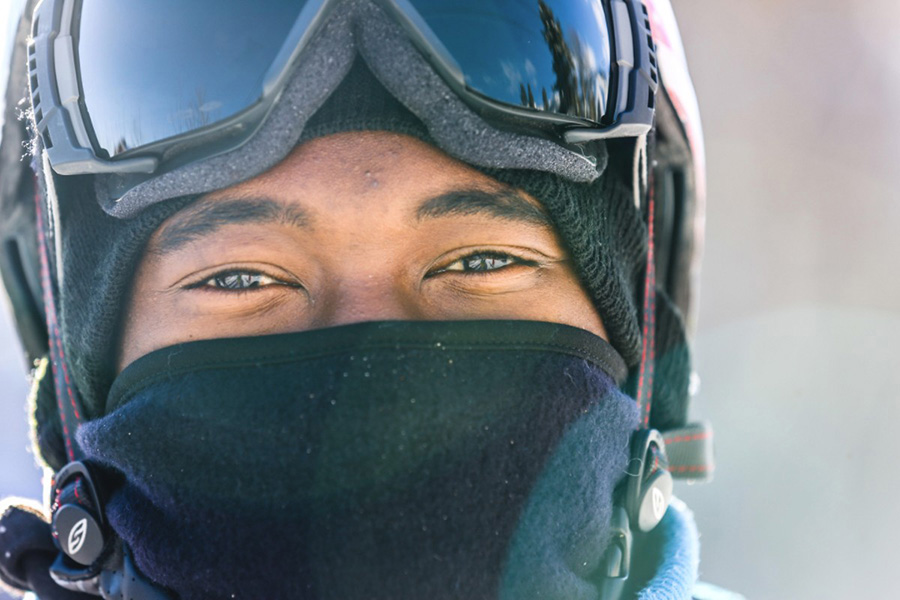 Brolin Mawejje aims to represent Uganda in the 2014 Winter Olympics.
How did you first meet Brolin?
So I first met Brolin nearly ten years ago when he enrolled in my middle school as a fifth grader after immigrating from Uganda. I remember those first years in the US as being extremely tough for Brolin. His mother left Uganda just after he was born and brought him over as an eleven year old and then enrolled him in public middle school in Lincoln, Massachusetts the next day. One can only imagine how alone Brolin felt, meeting his mother for the first time and assimilating into a completely foreign culture. There were many instances when Brolin would react in violent and upsetting ways to the difficulties he faced. The school board decided to step in and nearly called child services because they saw that he was displaying signs of abuse and neglect.
But before that happened, a woman on the school board named Susan Mygatt said she would give Brolin a place to live for awhile. She really made it her duty to give Brolin the tools he needed to succeed. She started off enrolling him in as many sports as possible to give him an outlet to channel his emotions into. Coincidentally enough, Brolin joined a program that would take kids snowboarding and skiing after school that I was part of. Brolin began snowboarding and that's when we really started spending a lot of time together, as we bonded over the sport. Snowboarding gave Brolin belonging and presence, and we would spend the next eight years together pushing each other on and off the hill.
How have you seen him change through the years?
When Brolin first came to America, he was truly alone in the world. He was having huge problems at home, which resulted in upsetting instances at school. As soon as Brolin started snowboarding, it all changed because of the friends he made and the community he became a part of. He felt like he belonged somewhere for the first time in his life. What snowboarding did is it really gave Brolin the tools he needed to succeed in America. He figured out how to develop passion and work ethic and make friends through a shared interest. Brolin has always been an extremely hard working student because the culture in Uganda encouraged you to work as hard as possible in school. But after Brolin started snowboarding and felt like he was a part of a community that accepted him, the determination he developed transferred into all other areas of his life.
As a freshman in high school, Brolin began to develop a passion for medicine. I believe his drive to become a doctor came from a single experience. Susan's husband Sam was struck down with terminal brain cancer and Brolin really took it hard. Because here is this family who took Brolin in and gave him food to eat and a place to sleep, and now the father of that family is diagnosed with a life threatening disease for no reason. I feel like Brolin thought he almost owed it to them to become a doctor.
What was the catalyst for creating Far From Home?
It was actually Brolin who came to me with the idea of telling his story. After being told by the doctors he worked alongside at his internship at Harvard Medical to write a book, Brolin started to consider the idea of finding a medium to tell his story through. Soon he started to realize that by telling his story he could give hope to people who are in circumstances similar to the ones he once experienced. So he talked to me about the idea just before we went back to school earlier this year, beginning our sophomore year of college in Salt Lake. I immediately thought we should make a snowboard film centered around Brolin's story, so I reached out to a filmmaker I knew in the area named Galen Knowles. Once Galen came on board and we started to go through the details of Brolin's life, we realized how much potential this story held and how much we would lose by just making a snowboard film. So we decided to embark on this journey to tell Brolin's story to the world, and make it our priority inspire people to follow their own dreams regardless of what stands in the way.
After throwing down this front three, Brolin went back to the books—such is the life of a pre-med student.
As a filmmaker, what are your goals for this project?
My goal for this project is to do justice to Brolin's story. It is too good of a story to do anything less. I want the film to show the world that if you work hard and are determined, the right people will find their way into your life to help facilitate your growth as an individual. It is what you do when no one is watching that matters. That is exactly the case with Brolin. And that is why opportunities arose in his life, and he immediately pursued them to the fullest.
As Brolin's close friend, do you ever struggle with finding the necessary distance from which to tell his story?
This project has definitely changed our relationship in a sense. I will always think of Brolin as my brother, as he moved out to Jackson with me and we've spent many years of our life together. Since Brolin really became family in Boston, when my family and I decided to move out to Jackson Hole we saw it only fitting that Brolin move with. Brolin and I finished our last two years of high school in Jackson and snowboarded nearly everyday while competing on the JH Freeride Team coached by Jeff Moran. So Brolin and I have really spent almost half our life together as brothers. But when working on the film, our relationship has to change from a brotherly one to more of a professional one—which can be hard at times, as the story is so personal to both of us and we've been through a lot together. But we both have a shared vision for the film. Brolin wants to tell his story and I want to give him a means to tell it. In that respect, it is easy for us to work together because we both want the same thing.
You, Brolin, and the film's production team just returned from Uganda. What can you tell us about the trip?
Traveling back to Uganda with Brolin to give him the opportunity to reconnect with his father who he hasn't seen or spoken to in nearly a decade was a heavy experience to say the least. It is hard to wrap your mind around how different the culture is there compared to America. Especially because we were able to get such an inside look by spending so much time with Brolin's family. Don't get me wrong there are some amazing people in Uganda but there is just so little opportunity. There is very little infrastructure, school is only paid for up to eighth grade, and the population is expanding at an alarming rate. There is no investment in developing the youth to create a better future for the country. Many families will have as many kids as possible in hopes that at least one kid becomes successful and then is obligated to repay the father for having raised him. We met one guy who was one of forty-two children in his family! We really want to display the contrast between American and Ugandan culture in the film. We hope that this film can become a vehicle to affect change in Uganda and similar places around the world.
Brolin just returned from a trip to Uganda, where he saw his father for the first time in nearly a decade.
What can you share about Brolin's Olympic aspirations? What role do they currently play in the film?
So Brolin's Olympic aspirations really only began with the commencement of this film. He has always been a good snowboarder but the idea to represent his country really only started to become a possibility after the opportunities that arose through this project. In the film, we want to paint the picture that Brolin has two incredible paths in front of him, pursuing a career as a surgeon or training to become the first African to snowboard in the Olympics, or maybe both. And the choice is always his to make.
It seems like Far From Home aims to capture much of Brolin's story as it unfolds. As a filmmaker, what challenges do you face in doing this?
It is true that Far From Home will follow Brolin as his story unfolds, but through his journey we will also revisit his past. Highlighting on the circumstances and tragedies he faced and overcame to get to where he is today. Ultimately, the story is also told by the people who played an integral role in helping him develop the tools he needed to thrive once in America. Since Brolin's story is by no means finished, it does provide some challenges because we are unsure of the outcome to Brolin's life. There are always unforeseen circumstances that could arise and derail Brolin from the path that he is now on. But that is just part of the risk of being an independent filmmaker—ha.
The first teaser for Far from Home.
This summer, you'll be following Brolin to Boston and then to Argentina. Why are these trips so important?
These trips over the summer to Boston and Argentina will play a huge role in the development of Brolin's character. Boston is critical to the film because it really is the conflict of the story. Brolin faced huge adversities upon his immigration to the US and we are going back there to discover how he was able to overcome them. Boston provides the opportunity to explore the role snowboarding played in his development and where his determination to be a doctor came from. Not only do we want to showcase his past in Boston but also his future. Currently, Brolin interns at Harvard Medical and Massachusetts General Hospital under the doctor who actually saved my father from brain cancer. So each stage of Brolin's life is connected to the next. Brolin has these two paths laid out in front of him: pursue Olympic snowboarding or a career as a surgeon. We want to highlight both of them in the film.
His snowboard pursuits will be showcased by our trip to Argentina. Brolin got invited to go down to Argentina with a group of shredders from the intermountain region. All these snowboarders have known Brolin for years and seen his growth on and off the hill. So by going to Argentina with this high intensity group we will be able to show the community Brolin has become submerged in through snowboarding and the experiences and opportunities arising through the sport.
What comes after these trips?
After Argentina, school will start up again. And this is a critical year for Brolin as he will be taking the MCATS, which is the standardized test that plays a huge role in determining if Brolin gets into medical school. So we will be capturing a lot of his efforts in the classroom. Also, Brolin was invited to compete in the World University Games. This is the second biggest international competition in the world behind the Olympics, essentially the Olympics of college athletics. This will be taking place in December. Brolin will be competing in big air alongside myself. So this will be a great precursor to the Olympics as we display Brolin snowboarding on a similar stage. Throughout the film we will always want to be highlighting the parallels between snowboarding and becoming a doctor in Brolin's life. And then through his current trials and tribulations, go back to the roots that sparked these two passions.
A typical day in the Tetons with (R to L) Jack Hessler, Brolin Mawejje, and Phil Hessler.
Do you have a tentative release date or is the project's conclusion dependent on what happens with regards to Brolin's winter and the Olympics?
We plan to do a final production trip back to Uganda in Spring 2014 and be done with production by that summer. Our goal is to have film finished by Fall 2014 and premier it in renowned film festivals across the world by 2015.
Anything else you would like to share?
I just want to say thank you to TGR and everyone else who has supported Far From Home up to this point. To stay updated with the project like us on Facebook and check out our website at www.farfromhomemovie.com to watch our second teaser, which goes live today.