Even the pouring rain couldn't keep the amped Vancouver crowd away from Re:Session at Library Square last week. The place was utterly packed, wall to wall, with over 300 psyched fans, everyone was stoked on the vibe, and the good times just wouldn't stop!
Drinks were flowing freely, and the crowd was bombarded with tons of gear from Rossi, Atomic, Comor Sports, Smith, Surefoot, and Whistler Blackcomb before the movie even started. And then came Re:Session, and the stoke factor went through the roof! Everyone's eyes were glued to a big screen somewhere (there were LOTS of screens), through all the super deep pow shots, huge airs, and ridiculous stacks. People were really psyched on the movie – the ooohs, aaahs, hysterical laughter, and even some screaming were constants throughout the show. (We've heard rumors here in Wyoming that Vancouver was even louder and rowdier than Whistler – epic!!!)
The movie may have ended, but the show wasn't over yet… turns out that in Vancouver, drinking and nudity are absolutely required to win the grand prizes. One lucky girl chugged some beers and went home with a pair of Rossi B-Squads, and a UBC Ski and Snowboard Club member won a free Alaska Heliskiing day (let's just say the nudity was involved in that one). Awesome.
Thanks Vancouver for an epic party! And thanks to elDJloco for hooking up the venue, Library Square for getting people in there, Holly Walker, Jesse & Steve from SFU and Ian & Jayson from UBC for spreading the word, and all those who threw down for awesome prizing... Mike from Rossignol, Steve from Atomic, Chris from Smith Optics, Sam from Surefoot, Carlos from Comor Sports, and Cat from Whistler Blackcomb.
And special thanks to doglotion.com for the photos and a sweet recap of the night's events!
**Vancouver! Killing it! Photo courtesy of doglotion.com**
**Stoked crowd at Library Square! Photo courtesy of doglotion.com**
**Everyone was stoked on Re:Session! Photo courtesy of doglotion.com**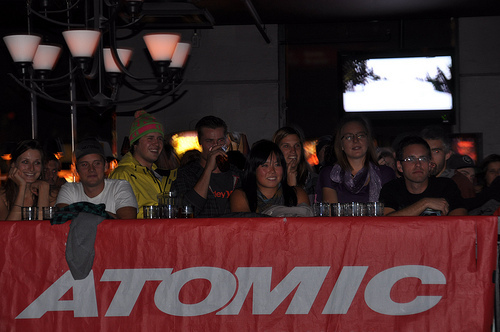 **Vancouver. Wall to wall with amped fans! Photo courtesy of doglotion.com**