The moment we've all been waiting for is almost here—the World Premiere of TGR's highly anticipated film, Way Of Life. The premiere is set to go down September 21st at Walk Festival Hall in Teton Village. The celebrated event is TGR's eighteenth annual film premiere in Jackson, and is positioned to be its biggest to date. Athletes, sponsors, ski bums and fans alike are gearing up for Saturday's big show, which serves as the kickoff to the international film tour, which will make stops in nearly 200 cities this fall.
In true TGR fashion, the days leading up to the World Premiere are chock full of exciting activities and events, including TGR's Annual Family Dinner, the TGR Athletes' Golf Tournament, and pre-premiere parties and after parties—there's no shortage of stoke surrounding the film and the upcoming season.
Tickets are available now and can be purchased online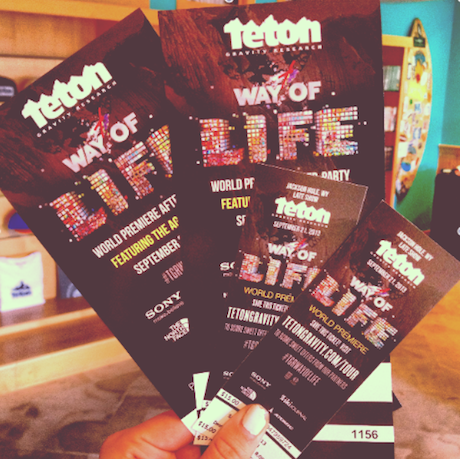 The office is abuzz with preparations for the premiere, so we caught up with a few TGR athletes for insight into what they're looking forward to this week.
Dylan Hood: I'm most looking forward to a few things. Seeing friends that I don't get to see all year. It's always nice to see a bunch of people that are in the industry, friends, and skiing buddies—it gets me excited for winter. I'm also excited to see the actual movie, because I haven't seen all the footage yet. And this may be cheesy, but, I'm actually excited to see all the little groms that are stoked to see the movie. They're probably the most pumped to see the movie out of anyone, just like we all were when we were kids. I'm also definitely looking forward to playing golf—usually it's my only time to play golf each year-- And, looking forward to playing music with Dana.
John Spriggs: I'm most looking forward to hanging out with people I haven't seen in a while. A lot of these guys live in different places, so I don't get to see them that often, so it's always good to get together. And in hanging out with them, I'm looking forward to the golf tournament—it's always really fun.
Dana Flahr: I'm most looking forward to the whole vibe, which is really rad—everyone getting really stoked to come to the village and getting fired up, and then just seeing the masterpiece final film is always amazing and leaves you really excited for winter. It always gets me ready to plan some new goals for the season. The band for the after party is The Aggrolites, so I'm pretty stoked on that. I've seen them before in Vancouver and I listen to them a lot, so it should be pretty awesome. They're really good live. They're high energy, high excitement, old school reggae, really upbeat, lively, and energetic—it's going to be good.
They're hyped, we're hyped, you should be too—check out the full schedule of events below.
TGR Way Of Life Premiere Week Schedule
Thursday, September 19th
Jackson Hole Mountain Resort Winter Kick-off Event
Winter Kick-Off party with TGR athlete signings and TGR prize giveaways at Jackson Hole town Square
-Open to the Public
Annual TGR Family Dinner
The TGR Family dinner will take place at Nick Wilson's at 6:30pm. This private event honors athletes, sponsors and VIPs.
After Dinner Party at the Mangy Moose
Get to the Mangy Moose at 9:30pm for an After Party to celebrate the premiere week. Live music by the Deadlocks, plenty of giveaways, and fun for all!
-Open to the Public
Friday, September 20th
Annual TGR Tee-Off Golf Tournament
The TGR Tee off starts at 5pm at Teton Pines. This 9 Hole Golf Tournament is for athletes, sponsors and VIPs.
Saturday, September 21st—Premiere Day
Pre-show Lawn Party
Starting at 3:30 p.m., come enjoy a free keg of Snake River Beer outside the old TGR office in the Village. Get ready for lawn games, and fun with music provided by the Miller Sisters. Everyone is invited so come out early.
-Public Event
*Early Show*
- Doors open at 4:30 p.m. Way Of Life World Premiere: 5:30pm
Ticketed Event
*Late Show*
- Doors at 7 p.m. and Way Of Life Premiere at 8 p.m.
Ticketed Event
Way Of Life Official After Party
Following the late show, get ready to party your arse off at the Mangy Moose. Live music by The Aggrolites & drink specials by Sailor Jerry.
-Public event
*Tickets*
Tickets are on sale at The Treehouse, The Boardroom, and online at here.
About the Film
For some, embracing the mountains is not just part of life—it's a way of life. The search for snow shapes not only how they approach these peaks, but also how they approach the world. And whether athletes spend their days dropping first descents in Alaska, lapping the local mountain, or training for the Olympics, they're part of a community built around a shared passion. The bonds that form from this community transcend continents and cultures, transforming strangers into friends. After all, a smile on a powder day needs no translation.
Shot on location in 2013, Teton Gravity Research's Way of Life takes you on a journey to the mountains and inside the minds of today's top athletes. With stunning imagery created with GSS, Red Cinema, and the Sony Action Cam, this film explores the origins of skiing in Austria, the search for original lines in Alaska, and the U.S. Freeskiing Team's quest for Olympic gold. The adventure also leads athletes to the rugged terrain of Jackson Hole and the Tetons, as well as the backcountry of British Columbia. Regardless of the terrain they ride, the athletes featured in Way of Life push the boundaries of what's possible. This journey takes them across the globe as they form a brotherhood that needs no language.
Starring:
Sam Winship
US Freeskiing Team
Locations:
Jackson Hole, Wyoming
Neacola Range, Alaska
Fieberbrunn, Austria
St. Anton, Austria
Red Mountain, British Columbia
Stellar Heli, British Columbia
Selkirk Wilderness, British Columbia
Kootaney Rockies, British Columbia
Cooke City, Montana
Mammoth Mountain, California
Pre-order your copy of the film here and snag your tickets here.