Experience the most ambitious film tour in snowboarding movie history. Ten-time Big Mountain Rider of the Year Jeremy Jones revolutionized backcountry snowboarding with his two films, Deeper and Further. Now Jones and TGR are taking their endeavors to the next level for the third and final installment of the trilogy with Higher presented by Subaru, which premieres for the first time tomorrow at Jeremy's home mountain of Squaw Valley. In anticipation of the World Premiere, the Weather Channel interviewed Jeremy's brother, and TGR co-founder, Todd Jones on the trilogy and what comes next for TGR.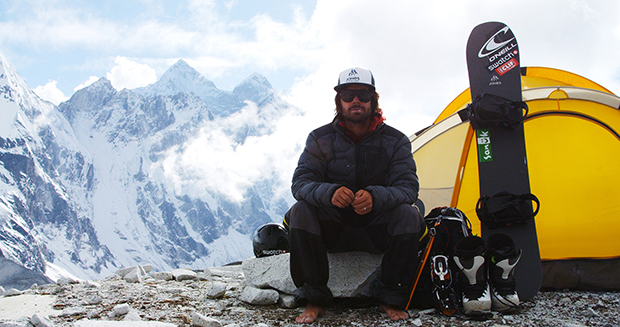 Jeremy Jones chills at the Shangri-La High Camp during the filming of Higher, with the Himalayas in the background. TGR photo.
To mark this epic conclusion, Teton Gravity Research has planned one of our most ambitious and expansive film tours to date, with over 200 shows worldwide.
Higher Film Tour Highlights:
Higher's World Premiere will take place tomorrow–Saturday, September 6–in front of thousands of people at Jeremy's home resort of Squaw Valley, with a worldwide tour to follow.
More than $1,000,000 in outdoor gear and lift ticket giveaways is ready to go for film attendees
More than 200 shows around the globe, including screenings throughout Europe, Australasia, and North America. For a full list click here.
Outdoor shows, IMAX screens, and even a FREE show at the Santa Monica Pier
Discount kids' tickets at the larger showings–bring the groms!
TGR is donating $1 per ticket from 30 of the biggest tour stops to Jeremy Jones' advocacy group, Protect Our Winters, which works to fight the climate change affecting snowpacks worldwide.
Higher is an official selection of the 62nd San Sebastian Film Festival.
As you can tell we are stoked about this film and the tour, and want the rest of the world to enjoy it as well. You can pre-order the movie and buy tour tickets
here
–Jeremy Jones'
Higher
is coming to an incredible location near you!