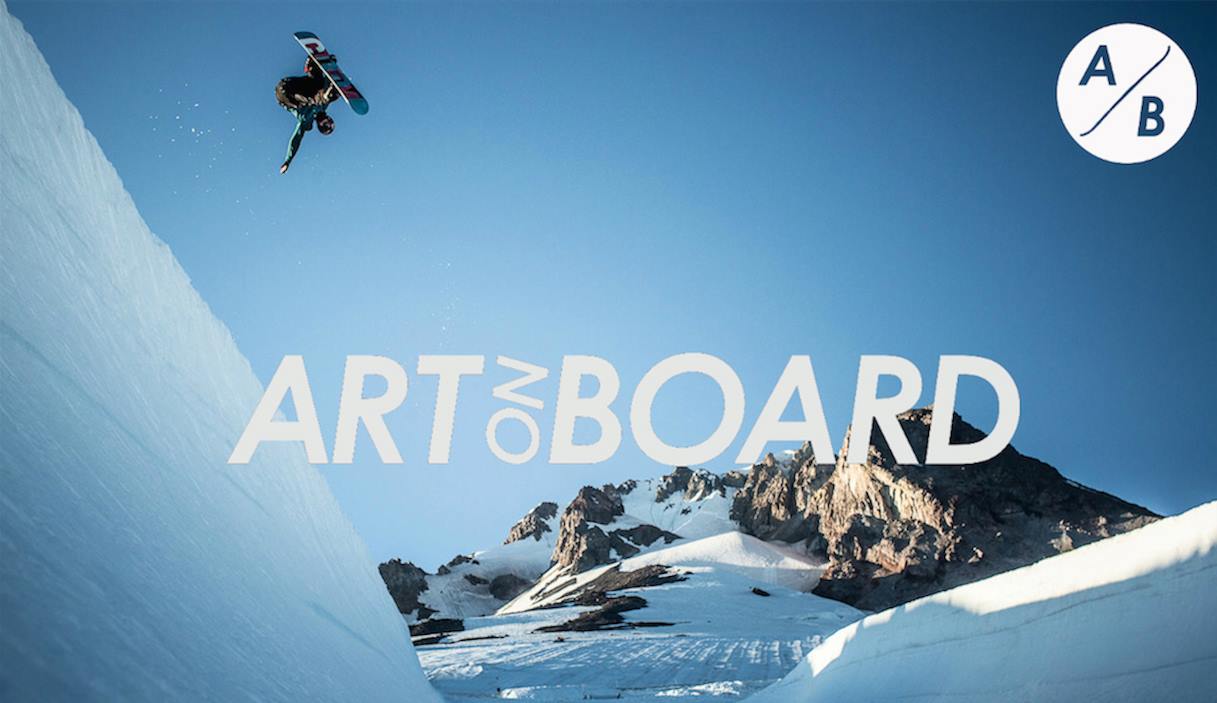 Art On Board is a non-profit that started in the classrooms of the University of Vermont by friends Tim Andreasen and Ben Weigher. It is quickly on its way to being a nationally recognized youth development program. The pair and Art On Board are currently in the middle of national tour in which they are collaborating with artists to design snowboards that are then auctioned off for charity, namely Burton's Chill Foundation. In addition, they collaborate with youth programs like the Chill Foundation to introduce youths to the arts and action sports. I was able to talk with co-founder Ben Weigher about Art On Board's humble origins, the connection between action sports and the arts, and their plans for the future.
What are the origins of Art On Board?
Boards from the first Art On Board show in Burlington, Vermont. Art On Board Photo
Art On Board started as a class project in an entrepreneurship class at the University of Vermont. The prompt was to "make a difference" with the project. Right from the start, our group wanted to do something with the arts. Our original plan was to do what we called an "art jam". This would showcase our friends from the Burlington area who were either musicians or visual artists.
When we were originally looking for venues to host the event, we were have trouble securing one because of the cost. So that's when we brought in the charitable aspect and started to work with the Burton Chill Foundation. That's how it turned into a project embodying the fusion of action sports and the arts. Burton gave us boards for that first event in Burlington. We ended up having local artists' designs on these boards and selling them at a silent auction with all proceeds donated to the Chill Foundation. It was a great celebration of creativity within the action sports and arts communities.
From class project to national non-profit. Art On Board Photo
After graduation, our professor, Promodita Sharma, reached out and suggested that we continue the project and attempt to bring it to the national stage. We actually tried that first summer but it did not work out as we planned. Everyone was too busy becoming a real adult to devout the time and energy to it. It was last winter, almost a year ago, that I decided it was really something I wanted to pursue. I let Tim know we should just go for it.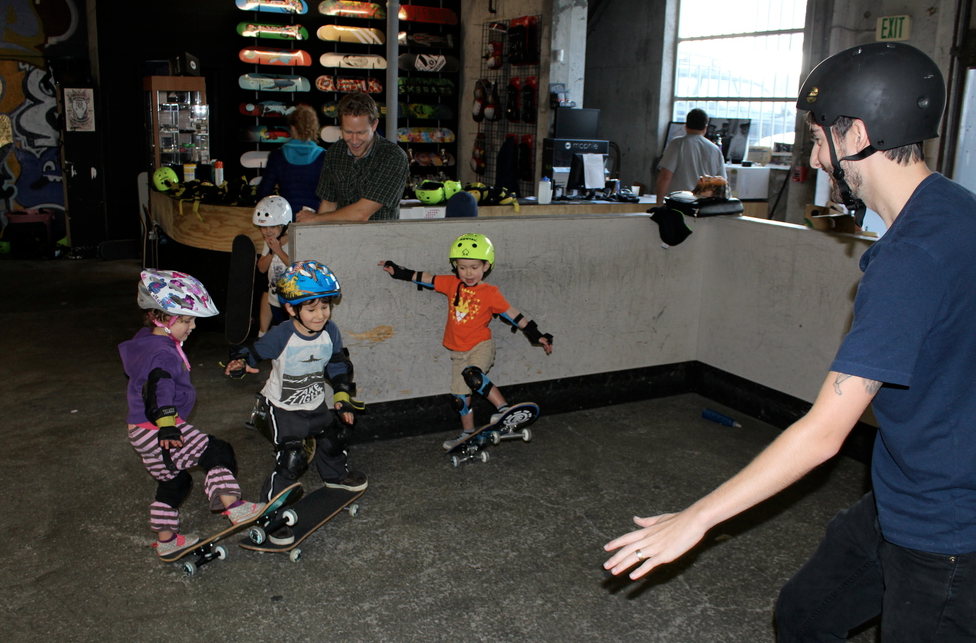 Scenes from the first free youth skate clinic. Art On Board Photo
Once we put more time and resources into Art On Board, things really started to fall into place. More brands got involved and provided support. We got in touch with both local and national artists, and at the end of July we held our first national event in Brooklyn. Then in the beginning of November, we opened another gallery in Seattle. That was a two-day event, which included a gallery opening party followed by a premiere of Drinkwater's film Pathology. We also held a live painting event and had a free youth skate clinic. That was the first time we did either of those and both were well received.
How did the Art On Board team come together?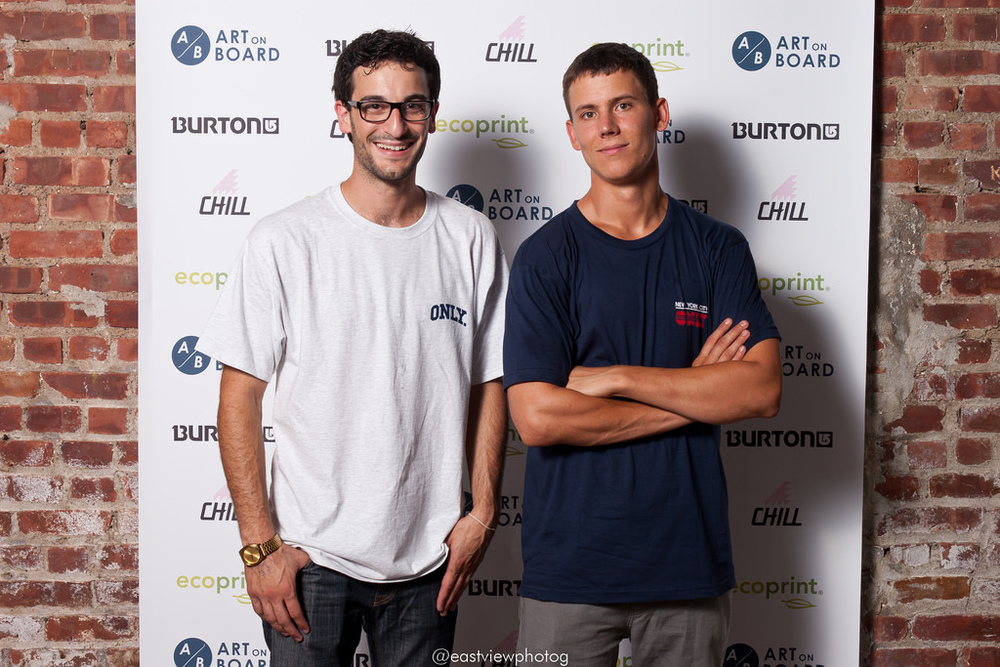 Co-founders Ben Weigher (left) & Tim Andreasen. East View Photo
Tim Andreasen and I were involved since the entrepreneurship class in Burlington. Our creative director, Brian Zager, who also went to UVM, has been involved since the very first show. He has designed boards for all three events now. Brian has also branded and done much of the design work for Art On Board. Vinne Depalmo, our CFO, is a friend of mine from high school. He is involved in the banking and finance industry, and was willing to lend a hand anyway he could.
We have some people who are on the community side of things that I actually met through our efforts in NYC. They both live in Brooklyn and both have a hand in the NYC Burton Chill Foundation. They offered to get involved in anyway they could. They are going to be helping us out in the community and engagement side of things
You have partnered with some pretty influential brands like Drinkwater, Burton, & evo, along with some incredible artists. How did you get connected with them?
Boards from the Brooklyn gallery show. East View Photo
For the most part, I was looking for brands that share a similar vision to Art On Board. This is promoting creativity to youth through the arts and action sports. Certain brands like Krink, which is a paint brand from NYC, took me reaching out to them explaining what Art on Board is and what our goals are. They bought into and shared that same vision. Brands were more than happy to support us with both product and promotion.
Obviously the arts are incredibly creative, and anyone who has grown up as an athlete within the action sports world knows skiing, snowboarding, mountain biking, surfing, anything like that, are wildly creative outlets as well.
As far as the artists go, it is a similar process there. We actually have had some artists reaching out to us looking to get involved. For the most part it has been Tim and I identifying people whose styles would be well received by our audience. When we reach out, the responses has been overwhelmingly positive. We have only had a small handful say that they are too busy to get involved.
What is the connection between the arts and actions sports?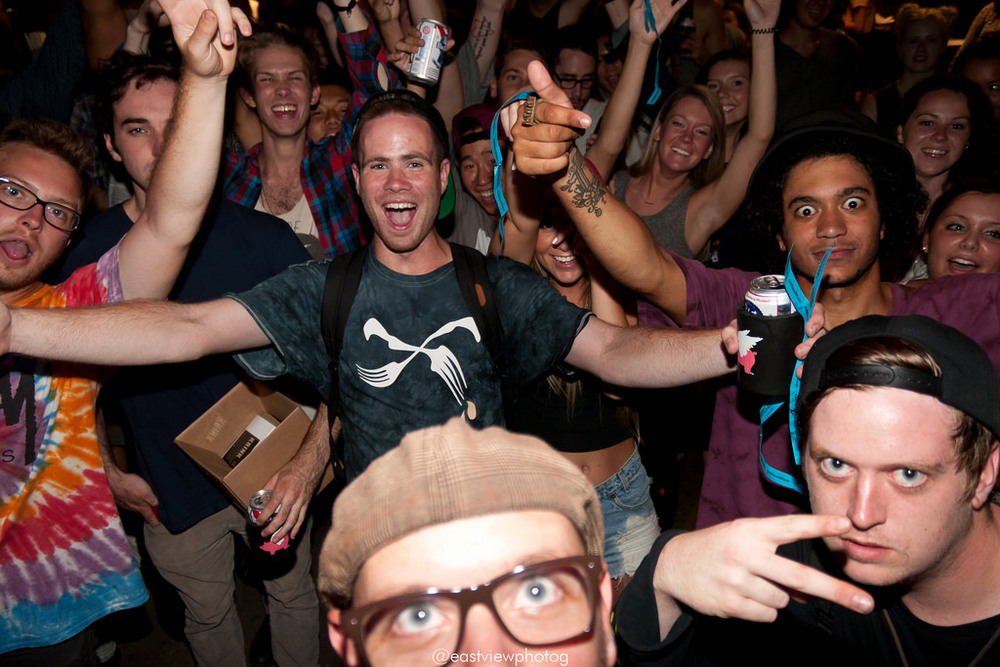 A stoked crowd at the Brooklyn event. East View Photo
The main question people ask when I first explain Art On Board is how do action sports and the arts go together? For those of us who have grown up in these two cultures, creativity is the glue that binds them together. Obviously the arts are incredibly creative, and anyone who has grown up as an athlete within the action sports world knows skiing, snowboarding, mountain biking, surfing, anything like that, are wildly creative outlets as well.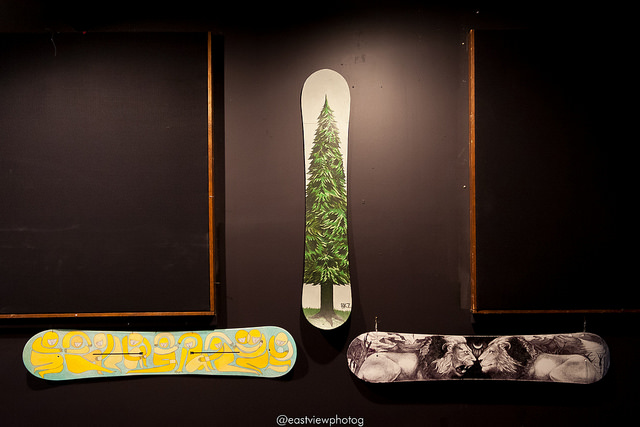 More boards from the Brooklyn show. East View Photo
One of the cool things is that all of our artists who have done boards for us have had role in the action sports world as well, whether they are athletes themselves or design for companies. It might be tough for people on the outside looking in to understand, but it is that creativity that is so intrinsic to both. It just makes sense to us that action sports and the arts go hand in hand.
What are the challenges of starting something like Art On Board?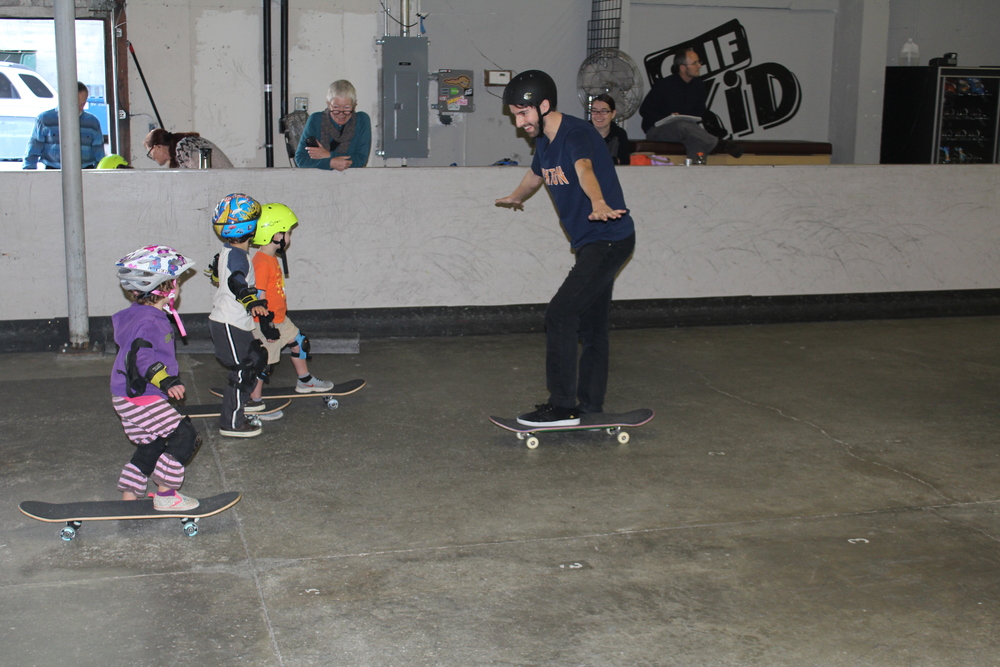 Little grommets stoked to skate! Art On Board Photo
Some of the challenges were just getting started. The main advice that Promodita Sharma gave to Tim and I was that if you are serious, give yourself a date, build a timeline, and start telling people. Once we got past that was when we made some big strides. Some of the challenges that we are facing now are learning about fundraising. Neither Tim nor myself is a fundraiser. We studied marketing and entrepreneurship, so we are learning the intricacies of this world. We are gaining from big national exposure. The events have helped, but the more exposure we can get the better, especially with the launch of our new online auction.
Successes?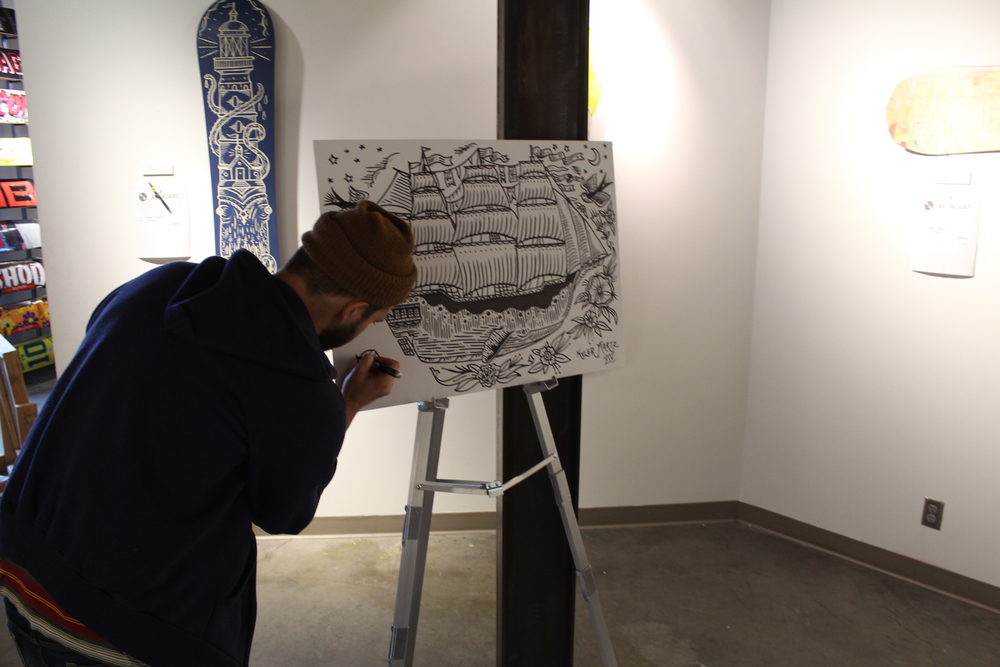 Live art at the Evo gallery in Chicago. Art On Board Photo
Some of our main successes have been how willing both artists and brands have been to get involved in what Art On Board is doing. I have been blown away several times how quickly people are to willing to say yes and get involved. That is reaffirming that the idea and what we are working towards is actually feasible. Now we need to figure out how to raise more funds to support it!
What are your future plans for Art On Board?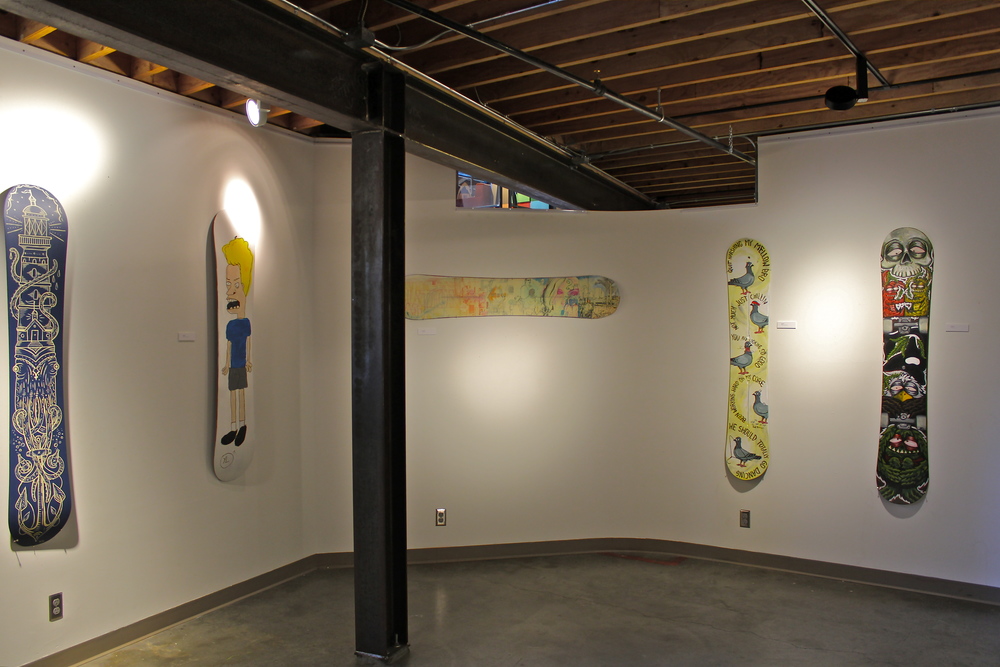 Our main focus right now is our finale to the tour in Burlington, Vermont. We are looking to have about 20 artists involved and make it our largest event yet. I am in NYC now meeting with one of our artists to talk about a community engagement mural project with Art on Board. He has over 35 murals in NYC right now and recently did work in Detroit. He is trying to connect the series in cities between those places. A few of those places might be collaborations with Art On Board.
Our long-term goal that we are working towards is our own youth engagement program. Right now we donate to programs that are already set up, whether that is the Burton Chill or the Burlington City Arts Foundations. Our end goal is to be able to do that ourselves.