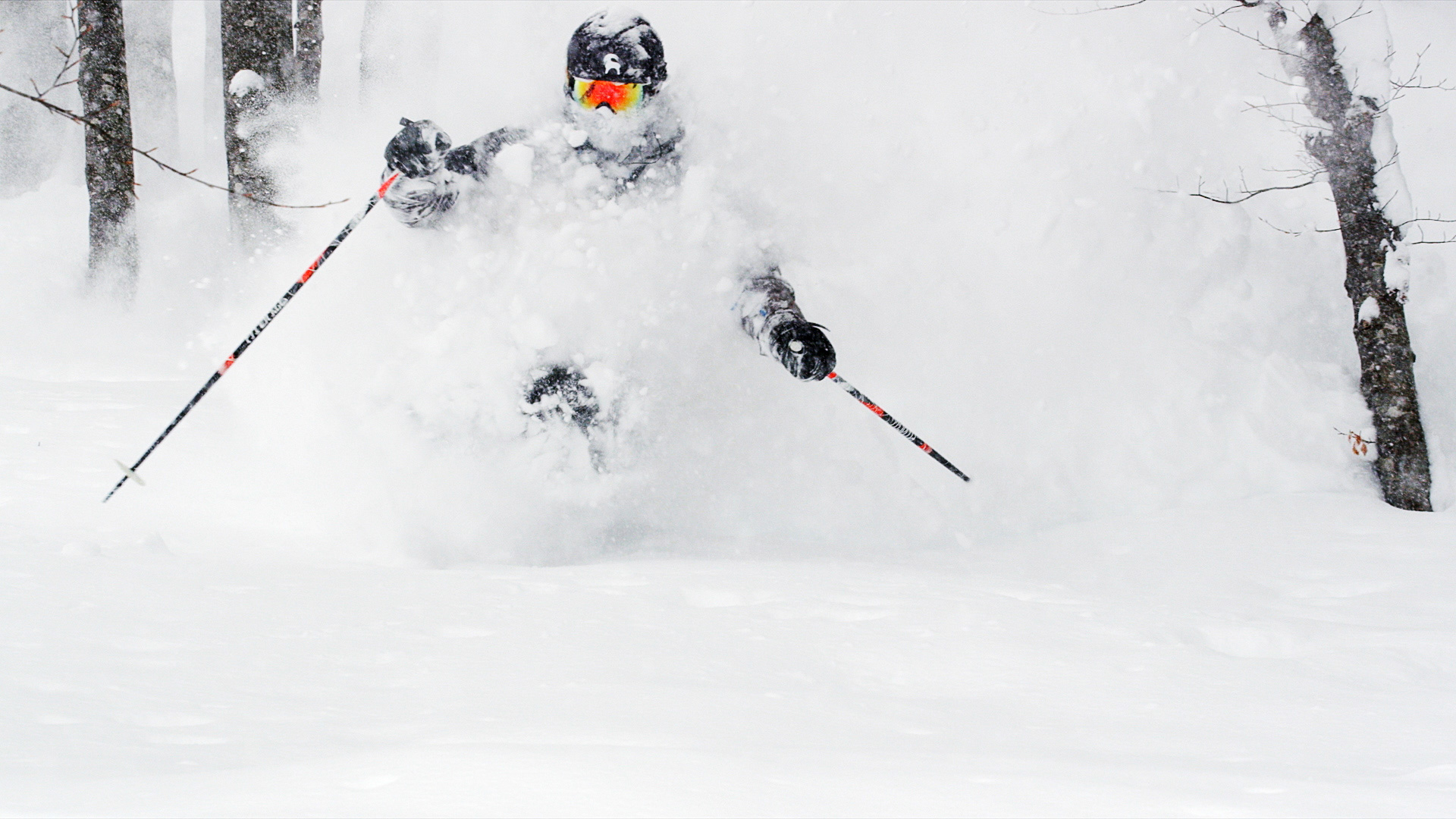 Snow. If you haven't already noticed, we're all about it. We've been turning on it since we were kids, and have been lucky enough to make a business and a life out of capturing some of the world's best athletes as they slide around on some of the best stuff nature puts out. Snow means a lot around here, and if you're on this site, chances are it means a lot to you, too.
Yesterday the Environmental Protection Agency introduced a set of proposed rules that would reduce CO2 emissions from the United States' power plants by 30% of 2005 levels by 2030, in part by cutting down the mix of power generation that comes from coal—the dirtiest fossil fuel—from 40% to 30% of the country's total energy mix. In part due to coal, snow has been under attack for years, and we're due to see snow a lot less consistently as time goes on. Not to mention the countless other ways in which life on this planet will get a lot less awesome if human-caused climate change isn't brought under control very soon. In part to ensure that the dreams we all dream when the snow starts to fall every winter are able to be realized, we wholeheartedly support this announcement from the EPA, and hope it jumpstarts a serious discussion in the US and around the world about how to tackle this huge problem.
What's This All About?
In 1970, the Clean Air Act gave the EPA the authority to regulate air pollution in the US, and since then, air pollution in the country has dropped by 70% while the economy has tripled. No doubt folks in China, where toxic smog is so thick in and around cities that hospital face masks are simply a part of life, would love something like the Clean Air Act. As of 2007, the EPA was forced by the Supreme Court to take the authority to regulate carbon dioxide emissions as an air pollutant, since the climate change it causes is a danger to human health. With Congress in gridlock on climate change regulation and pretty much everything else, President Obama, who has often considered action on climate change a priority of his administration but has yet to act in a big way, has turned instead to the less-attractive option of enacting an executive order authorized by the Clean Air Act that bypasses the Congress.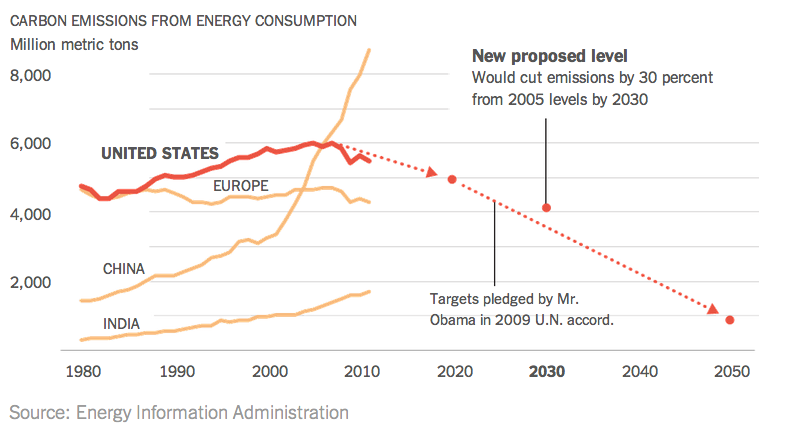 The new proposed regulation would require a 30% reduction in emissions measured against a 2005 baseline by 2030, and gives the states, many of whom have already begun tackling climate change in innovative ways, a fair amount of say in how to do so. They might focus on energy efficiency, transfer energy production away from coal and use more of the natural gas that's become widely available in the country lately, invest in renewable energy, or upgrade existing power plants. Especially the country's fleet of 600 coal-fired ones, many of which are at least forty years old and highly inefficient. While the 2008 recession and the explosion of relatively cleaner (compared to coal) natural gas have actually produced a decline in US emissions over the past couple years, that reduction needs to be accelerated further to meaningfully reduce the impacts of climate change both in our generation and in those to come.
We want snow, that magical stuff that has entranced so many of us for a lifetime, to stick around and fall consistently, and we don't think you need to vote a certain way or drive a certain car (or not drive one at all) to feel the same way.
States might also opt into a statewide or regional cap-and-trade system, which would set a limit on the total emissions allowed and then let states auction the "right" to emit between themselves, letting states who can clean up more efficiently and cheaply sell their pollution rights to states who can't. The EPA looked a lot at the Regional Greenhouse Gas Initiative, an established cap-and-trade effort working successfully among ten states in the Northeast, in drafting their new proposal.
Of course, in supporting a measure like this one, we at TGR recognize our own hypocrisies. We burn plenty of greenhouse gases to make our films (although we try and offset the impact as best we can) and yes, spend time flying around in helicopters. Our offices lie in Wyoming, a tremendously beautiful state but also the country's largest coal producer and naturally a vehement opponent to regulations like this one. The state government recently axed new science teaching standards that would have taught climate change as a problem caused by human activity for fear of casting the state's fossil fuel industry in a bad light. We imagine many of you are in similar situations, be it driving to the mountain or hopping on a plane for a dream trip to some far-off powder mecca (or just for work). In this battle for snow, there are no purists.
Why Does TGR Care?
For us, this isn't really about advocating for a specific policy. We try and stay educated, but at the end of the day, we're a media company; we're not economists. But we know that without something on the table to react to, we won't move any closer to a solution. Without the certainty of long-term policy, businesses won't invest in efficiency and greener technologies and practices. And while the proposed cuts to emissions won't get us to the point we need to avoid serious climate change, without the US—modern capitalism's biggest cumulative polluter—taking on the problem in a meaningful way, there's almost no chance anyone else around the globe (especially China) will either. Here in the US, we love to lead, and we need to do so again.
Again, we're not economists, scientists, or regulators here at TGR. But that doesn't mean there's nothing for us to say about climate change and the future of snow. We want snow, that magical stuff that has entranced so many of us for a lifetime, to stick around and fall consistently, and we don't think you need to vote a certain way or drive a certain car (or not drive one at all) to feel the same way. We hope this announcement, and the national discussion that will emerge from it, is a serious start to figuring out how to make snow as much a part of our future as it is of our present.
Snow. It's our reason to act on climate. What's yours? Post a shot of something that inspires you to act on climate change, use the hashtag #ActOnClimate, and tag @protectourwinters.